Boston's original City Hall and surrounding Plaza were built in 1968, and while they still serve reliably as a government building and public meeting space, they never quite lived up to public expectations. The city of Boston recently decided to renovate the original City Hall building and its surrounding plaza, providing each with a bit of modern flair to make the area more inviting for the city's many residents.
We here at Chicago Metal Supply, in partnership with Gilbert & Becker, are proud to say that we are heavily involved in this renovation by providing key pieces that are used throughout the process. Are you interested in learning more about this historical restoration? We're going to cover it in more detail below.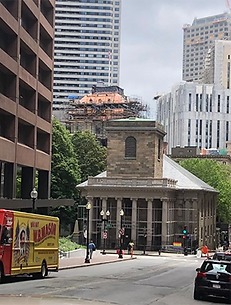 A Massive Makeover
The original City Hall renovation is set to be a massive undertaking. With $70 million allocated to it, it's planned to take place over the next 2 years. The goal is to transform the plaza into a citizen-friendly area — a place where Boston residents and tourists can lounge, congregate, and participate in a variety of events. Some of the primary updates to the old City Hall and its surrounding Plaza will include the following:
Original City Hall Building Restoration
Chicago Metal Supply has been heavily involved in the original City Hall building's historical restoration. We have provided custom copper dormers, custom cornice work with intricate stampings, decorative custom fabrication, and more. As with all of our restoration projects, we've used the highest quality metals to give the building a regal look.
A Park Area
To make the Plaza more desirable, there are plans to implement a 12,000 square foot park within its confines. This park will include everything from playground equipment, to a water attraction, to green space, and more. It will cater to children, specifically, though it will be a fun place for everyone to enjoy.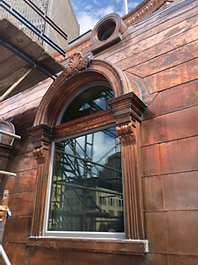 Seating
There currently is not a lot of seating in the Plaza. The renovation plans to rectify this, implementing around 3,000 seats, all shaded and free from the sun.
Tree Planting
The original City Hall Plaza is known for being a high-wind area. As such, it's not always the most inviting place to be. To mitigate this problem, the renovation will involve the planting of hundreds of trees. These trees will not only reduce the effects of high winds, but they should add a new charm to the plaza itself.
A Stage
The city wants to turn the Plaza into a venue for public entertainment. To facilitate this, they're planning on building a stage in the area. This stage will be used for everything from live music, to public demonstrations, and more. It will be joined by a large, open area where visitors can stand and congregate.
Permeable Surfaces
During heavy storms, flooding is often an issue in the Plaza. This is why the renovation will include the installation of a number of permeable surfaces. These surfaces are intended to soak up rainwater, keeping flooding and run-off to a minimum.
Environmental Measures
The city of Boston is known for being highly conscious of environmental issues and does everything it can to meet environmental standards. As such, the renovation of the Plaza will include a variety of environmental measures.
One of these measures is the replacement of lighting. Traditional lighting will be swapped out in exchange for high-efficiency LED lighting. The renovation will also include the use of recycled brick and granite (around 22,500 feet worth).
Do You Need Decorative Metals for a Historical Building Renovation?
Are you looking to renovate a historic building of your own? If so, and if you're in need of decorative construction metals, our team at Chicago Metal Supply is ready to help.
We offer all types of metal products, from copper roofs to cornices, to dormers, and more. Plus, we even offer custom fabrication. If your renovation project involves any decorative metals, we can assist you.
Contact us today to learn more or to request a free quote!