Chicago Metal Supply
Architectural Sheet Metal Fabricator
Coping ● Flashing ● Gutter Systems ● Standing Seam Metal Roofing ● Custom Fabrication ● Historical Restoration ● ACM panel cutting and supply ● Water Jet Cutting ● Roof & Wall Panel Systems ● Insulated Metal Panels ● Scupper Boxes ● Stamping ● Decorative Accessories ● Cupolas ● Finials ● Dormers ● Conductor Heads and More!





Here are some before and after photos of projects we have worked on. Please take a look and let us know what you think.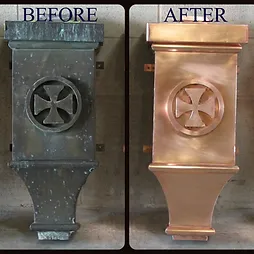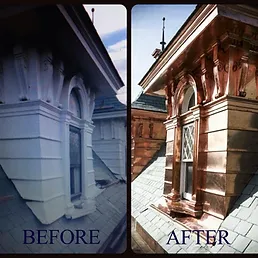 Historical Resoration Projects
On the left: The Adams Street Bridge in downtown Chicago is one of historical importance as it was completely restored in lead-coated copper courtesy of our custom fabrication team.  On the right: The Bangor, Maine Public Library.  We fabricated a complete restoration of all the historical copper work, bringing this iconic building back to life.